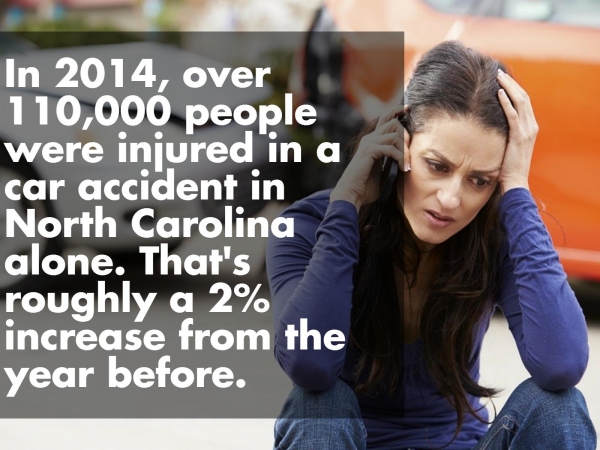 Auto accidents are traumatic experiences for everyone involved. At Hayes Law, we are dedicated to guiding injured victims and their families through the complexities of the legal process to get the compensation they need for recovery.
If you need help pursuing your legal case after an auto accident in Greensboro or surrounding areas of North Carolina, call Hayes Law today at  336-645-3959 to speak with an attorney about your case. With more than 28 years of combined experience, we have the track record to see your case through and to help you get justice.
Common Causes of Car Accidents
There can be any number of factors that contribute to a car accident. Distracted driving, which includes cellphone use along with several other irresponsible behaviors, is chief among car accident causes in Greensboro and surrounding areas, However, though it plays a role in many accidents, driver distraction is far from the only cause of serious car wrecks.
Factors that contribute to North Carolina car accidents include:
Erratic lane changes
Failure to yield right of way
Failure to use turn signals
Excessive speeds
Failure to follow traffic signs and signals
Poorly designed or maintained roadways
Vehicle malfunction
Because several factors may contribute to an auto accident, several parties may share some responsibility for your injuries. These can include other drivers, state and local municipalities, vehicle manufacturers, and anyone else whose behavior, actions, or inaction contributed to the wreck. This is one of the biggest reasons to hire an auto accident lawyer as soon as possible.
The Greensboro car wreck lawyers at Hayes Law have decades of combined experience helping victims of serious injury get justice. If you have been injured in a car accident in Winston-Salem, High Point, or surrounding areas of North Carolina, call Hayes Law at 336-645-3959 to schedule a cost and obligation-free consultation today.
Common Car Accident Injuries
Some injuries sustained in an auto accident will be minor. In these cases, it may be okay to simply settle with an insurance company. However, if your injuries will require ongoing medical treatment, result in lost wages, interfere with your social, family and work life, or result in serious pain and suffering, you will want an auto accident attorney on your side right away.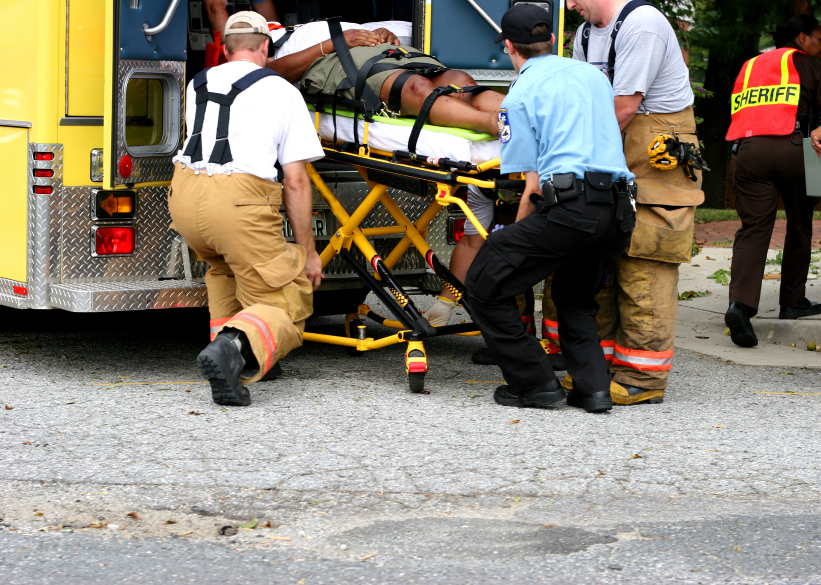 Injuries that our Greensboro auto accident lawyers deal with include:
These car wreck injuries have the potential to be permanently life-altering. They can impact your ability to work and provide for your family, they can necessitate expensive home modifications and adaptive technology, they can require multiple medical procedures and long-term rehabilitation, and they may be impossible to fully recover from.
Insurance companies seldom cover the real damages associated with serious injury following an auto accident. We are here to take your case as far as needed to secure full compensation and to ensure you have everything you need to make the best recovery possible.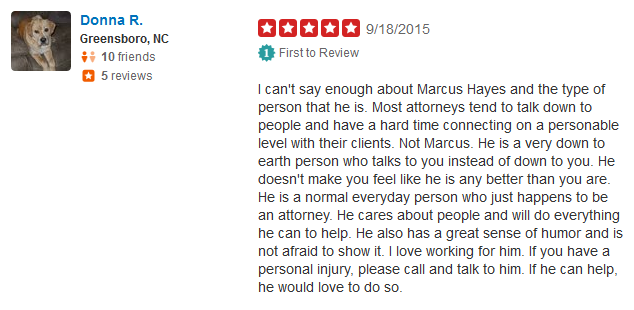 What to Do After a Car Accident
The aftermath of a car accident is stressful. It can be difficult to know what to do next. These tips can help you begin to understand and protect your rights:
Call for medical assistance. If anyone is injured, dial 911. The well-being of everyone involved in the auto accident should be first priority.
Do not apologize. It may seem polite to say, "I'm sorry," but that can later be seen as an admission of responsibility.
Gather witness information. Anyone who witnessed the accident may be able to help your legal case. Get contact information for all witnesses and parties involved.
Photograph the scene. Almost everyone has a camera in their pocket in the form of a cell phone. Take pictures of the damage to your car and the accident scene if you are able.
Report to your insurance company. Even if you are not at fault, you should notify your insurance company of the accident.
Write down what happened. Memory fades over time. Write down what happened as soon as you can after the accident and document your injuries.
Speak with an attorney. Before you talk to the other party's insurance company, make sure you talk to an attorney. We can help you fully understand your rights and what compensation for your injuries should be.
It is important to see a trusted medical provider as soon as possible following an auto accident. Spinal cord injury and brain injury are not always immediately noticeable, but failure to treat these serious injuries in their beginning stages can result in permanent disability or severe complications. Even if you are cleared by EMTs on the scene of the accident, make an appointment with your doctor right away to check for undiagnosed injuries.
If your injury is too serious to allow any action on the scene of an accident, our North Carolina car wreck lawyers can help. We will conduct a thorough investigation into your accident to determine who is at fault, and gather all of the information needed to help make your case a success. Call us at 336-645-3959 to schedule a free consultation and learn more.
Get the Legal Guidance You Need
Our Greensboro accident attorneys understand the financial strain and burden placed on you and your family when you are injured in an auto accident.
Insurance companies want to give you the impression that they are on your side, but they will try to settle your claim for less than you deserve. The insurance company will do everything they can to deny your claim, delay your claim, or reduce the amount they pay on your claim. Remember, these are for-profit corporations who are beholden to stock holders. Their goal is to make a profit – and they can't do that if they are paying fair compensation for car accident injuries.
Consulting an attorney who is experienced with handling car accident claims is the best way to ensure that you are being treated fairly by the insurance company. Our job is to make sure that your claim is not denied or delayed and that you are reasonably and fairly compensated for your injuries. We don't work for stock holders, we work for you. And we are prepared to take your case as far as needed to secure every penny you are due.
Contact Hayes Law - No Fee Unless We Win

Were you or your loved one injured in an auto accident? Call the experienced auto accident attorneys at Hayes Law at 336-645-3959 to schedule your free consultation. We represent clients from Greensboro, High Point, Winston-Salem, and surrounding communities in North Carolina.
Victims of serious injury need a dedicated legal team fighting for their rights. Our Greensboro car accident lawyers believe that you are entitled to direct access, communication, and personal attention from the moment you step into our office. A small firm with a long history of securing big settlements, we know how to fight for the justice our clients deserve. We will treat you with absolute respect and dignity, while protecting you against predatory insurance companies and fighting tooth and nail for the true compensation your injuries demand.