Any injury is serious to the person who experienced it. When that injury is the result of an accident caused by another person's negligence, you have the right to pursue compensation for the cost of your injuries.
But as our firm has seen time and again over the course of our decades of service, there are some truly catastrophic injuries that can negatively affect the rest of your life. These severe injuries are costly in both the short and long terms. And, in truly tragic cases, an accident is so serious it can result in an innocent victim losing his or her life.
If you need a personal injury attorney in North Carolina with ample experience in catastrophic personal injury and wrongful death cases, please call Hayes Law today at (336) 645-3959 for a free consultation.

Examples of Catastrophic Personal Injuries
Auto accidents are devastating, traumatic events. When large vehicles collide at high speeds, those inside the vehicles are at serious danger. Such an accident can dramatically affect your health and well-being. This is particularly true with bicycle accidents, pedestrian accidents and motorcycle accidents, where victims have little protection in the event of a serious collision.
Our attorneys have helped victims who have suffered:
Broken, shattered or pulverized bones
The thing to remember with these severe injuries is that they're long-term in nature. A single traumatic brain injury, for example, can easily cost over $1 million to treat over the course of your lifetime. And such an injury can make it difficult to work and earn a living.
That's why it's so important to find the right attorney to pursue compensation after your accident.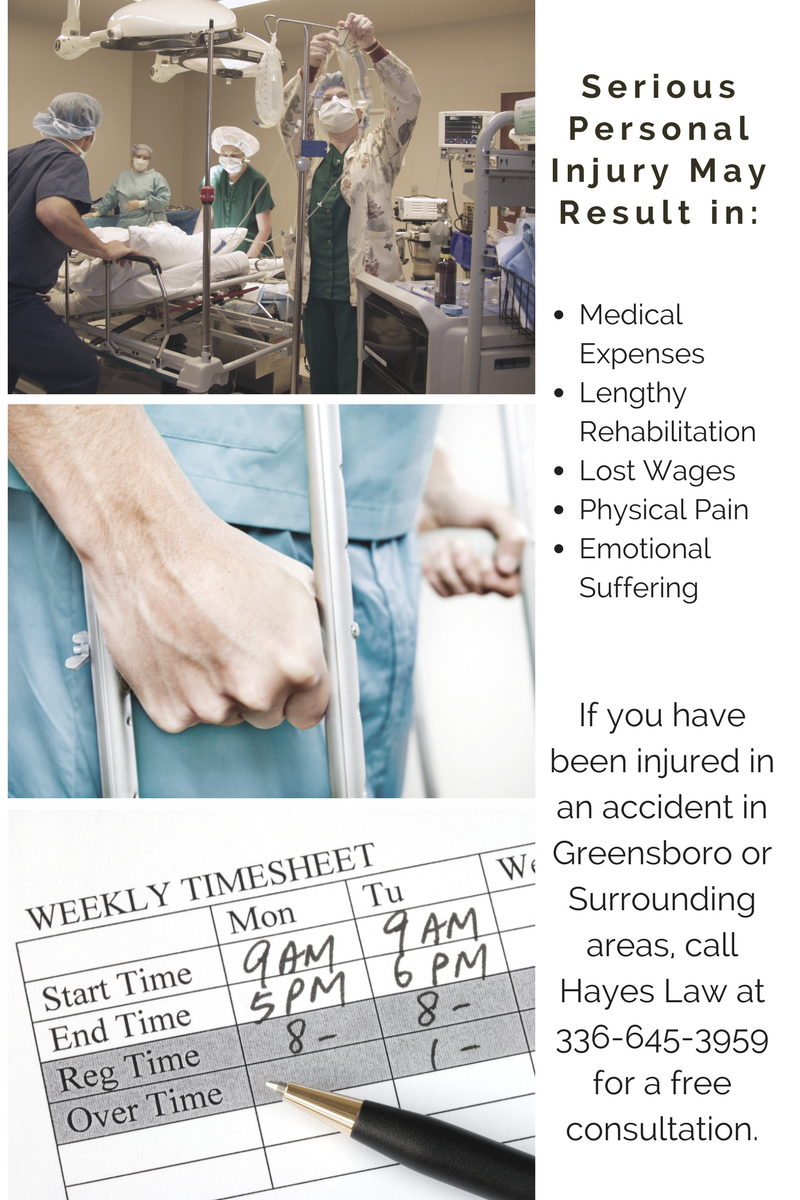 How We Help After the Loss of a Loved One
There's no doubt that the most tragic cases we handle are those involving the sudden, avoidable death of a family member. Losing a loved one is always tough, but when that loss occurs out of nowhere and it's the result of someone else's negligence, it can be hard to take.

While no legal result can bring your loved one back, a wrongful death suit can allow you to focus on the process of grieving and recovery. Our lawyers can pursue compensation for:
Funeral expenses
Medical expenses
Lost companionship
Lost wages
It's not greedy, litigious or disrespectful to consider a wrongful death suit in the aftermath of the accident that killed your loved one. You have a right to pursue compensation, and the law is designed to protect victims.
If you or a family member has suffered a catastrophic personal injury in or around Greensboro, Winston-Salem or High Point, North Carolina, please call Hayes Law today at (336) 645-3959 for a free consultation.