Posted: February 10, 2017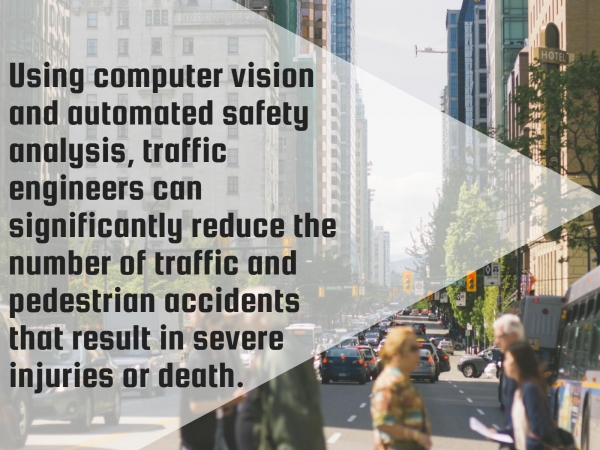 The science behind improving roadway safety is very reactive. Numbers and statistics on traffic collisions, injuries and even deaths are required to make the necessary adjustments that will ultimately help prevent future accidents. However, one traffic engineer believes he has developed an entirely new system that can help improve the safety of pedestrians, and reduce the number of pedestrian accidents.
For the last 10 years Tarek Sayed, a University of British Columbia civil engineering professor, has been developing a system that utilizes video cameras to monitor intersections for near misses between moving objects, and computers to automatically track the results, allowing researchers and traffic engineers to gather data within a matter of hours rather than years.
This revolutionary system uses cameras that have already been installed in an area to film a given intersection. Computer algorithms can track anything that moves through the intersection, including:
Cars
Motorcycles
Trucks
Bikes
Pedestrians
The algorithm can then figure out if the moving object is a person or an automobile, how fast they are going and how close they got to hitting another driver or person on the road. The computer can even tell with 80 percent accuracy when a person is distracted by their phone.
Sayed's system has been implemented in 10 countries around the world, and is currently operating in areas such as:
Edmonton and Vancouver, Canada
New York City, United States
Brisbane, Australia
In Edmonton, traffic engineers redesigned one intersection after analyzing it with computer vision and automated safety analysis. Doing this reduced collisions by 92 percent. Internal studies have estimated cost savings at $1 million annually.
This system can also address other issues, such as proper documentation. Collision reports written by police officers and testimonials offered by witnesses are very subjective. These cameras and automated tracking systems can document what actually happened.
However, despite this technological advance, accidents still can and do happen. The pedestrian accident attorneys at Hayes Law understand this, and can help navigate you through the intricacies that surround your case. Together, we will fight tirelessly for the justice and compensation you and your family deserve.
If you are in the Greensboro area and would like to learn more about how our pedestrian attorneys can help you, give our office a call at (336) 645-3959 to schedule your initial consultation.