It's National Teen Safe Driving Week. If you have a teenager who can drive or who is about to start, this week provides the perfect opportunity to discuss safe driving habits that can help prevent his or her causing an accident. Talking about safe driving behaviors can also help your teenager become more focused and attentive, which may help them avoid being involved in an accident caused by someone else as well.
The sad truth is, most car accidents involving teenagers are caused by teen drivers. Sadder still, many of these are serious or even fatal. By visiting with your teen frequently and modeling good driving behavior when you are behind the wheel, you can help protect your child from catastrophic injury or death. Take time this week to sit down with your teen to check in on driving habits and to provide guidance where needed.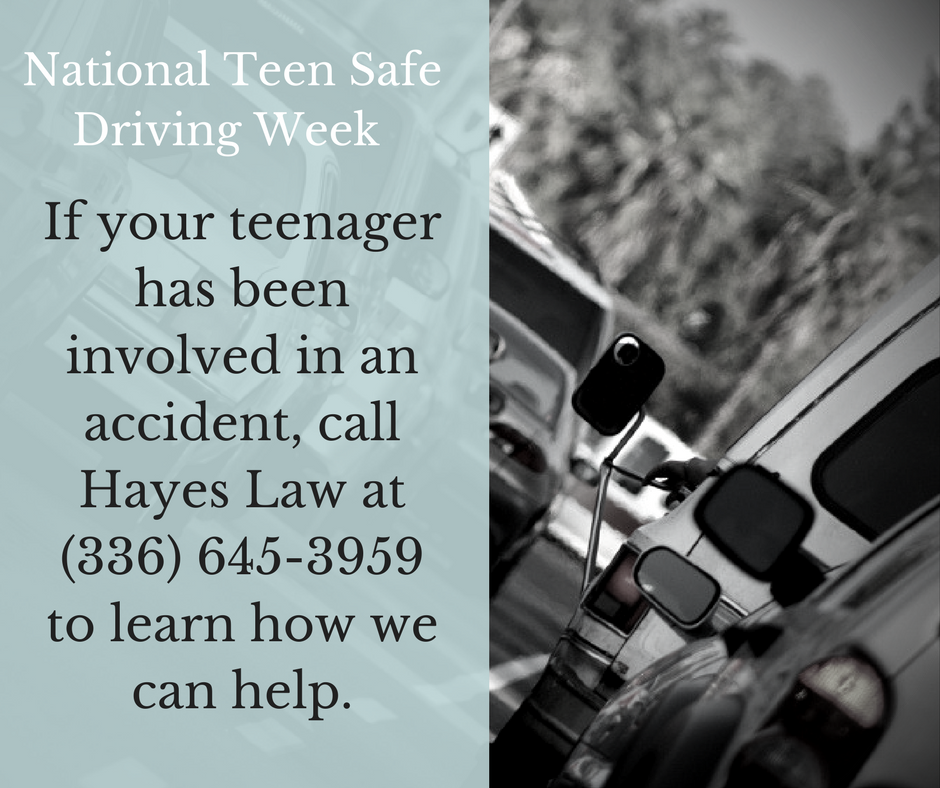 What to do When Your Teen is Injured in a Car Accident
If your teen is injured in a car accident in Greensboro or surrounding areas of North Carolina, you will want an experienced lawyer on your side. Even if your teen was partially responsible for an accident, having a lawyer may be useful in collecting compensation for damages not covered by insurance. The best way to find out if you have cause to file suit is by discussing your case with an attorney.
When you bring your case to Hayes Law, we carefully examine the details surrounding the accident, enabling us to determine where fault should lie. We are prepared to investigate your teenager's accident to identify its cause and are here to help your family get fair compensation for all related damages.
Call Hayes Law at 336-645-3959 to schedule a free consultation at our Greensboro office. We serve Winston-Salem, High Point, and all surrounding North Carolina communities.